"I feel like a Stepford Wife."
"That explains the outfit then."
"No, I'm serious. I no longer feel comfortable buying just anything, only what's needed," Laverne complained, as she headed down the cookie aisle. "We're being reprogrammed to become more altruistic which I guess isn't a bad thing."
"Toilet paper's back there," I gestured behind us.
"We've got over a hundred rolls in the garage, so don't worry."
"You've got a heart as big as your feet. Did you know that?"
"Call me in six months when you're wiping your ass with a Shih Tzu," she opened a pack of Oreos and placed it in her trolley. "And don't look at me like that. Do you think the PM is cutting the Daily Telegraph into little squares in case he runs out? Is he, heck."
"Not with an arse that size," I was constructing a mental picture and it wasn't pretty.
"The point is, we're not in this together. I mean, we are but they're not. It's all a façade," she bit into an Oreo, frowning. "Anyway I'm seriously thinking of moving to North Korea when this whole thing blows over. At least there you know where you stand."
"Against a wall wearing a blindfold?"
"You Un Funny."  
"What about their state-approved hairstyle: The Hair Helmet?"
"Oh yeah, I forgot about that… don't let me leave today without buying a hat."
"And don't let me forget laundry detergent. It's top of my list."
"We've got at least six months of that as well," she put a finger to her lips.
"You know these eco-friendly washing machines?" I segued slightly. "Does yours use enough water because my clothes don't even look wet when they're being washed. They're damp, at best."
"I agree, they don't use nearly enough water. I top mine up."
"Me too. After all, we don't shower using an atomiser."
"That's because we're not from LA. Hey, did you read that Gwyneth Paltrow steam-cleans her noo-noo?"
"Her website's called goop so I'm thinking hygiene may be an issue," I winced. "Sounds like a waste of water though. She needs to think about the whales."
"To hell with the whales," Laverne scoffed. "How much more water do they need? Maybe if they'd lose a few pounds there'd be less displacement."
"Uh…"
"It's true; it's the fat ones who are causing the sea levels to rise. Whales are so selfish. I hate them," she fished another Oreo out of the bag.
"I suppose you can't argue with science. And while we're on the subject… what do you think of Greta Thunberg?"
"Pippy Longstocking Meets Fire Starter."
"She certainly hates us, that's for sure. Anyone over 40 is in that little witch's crosshairs."
"If she could burn us, she would," Laverne shuddered, "along with every member of ABBA if it helped her cause. Want an Oreo?"
"Will it make me as smart as you?"
"You're asking the wrong person."
"How so?"
"Because yesterday after reading The Guardian, for a moment I actually thought it had actually expanded my mind."
"Why on earth would you think that?" I was intrigued.
"When I was out shopping I looked into one of those magnifying mirrors you do your eyebrows with."
"Did you go Tesco yesterday?"
"We were low on toilet paper."
Meandering through the aisles we found it increasingly difficult to maintain social distancing and not be overheard. While this rarely presented a problem, on this occasion it did, resulting in some blowback…
"How's little Edward doing?" Laverne enquired after my 8 year-old cousin.
"He's enjoying being off school, if that's what you mean, but it's all about the Xbox with him. He gets up at 6am to do his schoolwork just so he can go on it right after. Don't ask me when he last kicked a ball around."
"A man with a plan," she laughed. "When he visited last summer he was such a delight. I really think I got through to him."
"He thinks you're a dork,"
"What?"
"Don't get me wrong; he liked you. He just thought you were a bit of a dork. Don't take it personally."
"But he's autistic!" Laverne protested.
"So what? Autistic people are allowed to express opinions," I reminded her.
"Yeah but not about normal people."
"Don't ever go into teaching."
"Don't worry."
It was then a young woman in her twenties made her presence known. She was sporting a blue surgical mask which perfectly matched the colour of her hair, half of which had been shaved off to reveal a tattooed verse written in Arabic. Both earlobes could have been budgie swings and her t-shirt declared This Is What A Feminist Looks Like.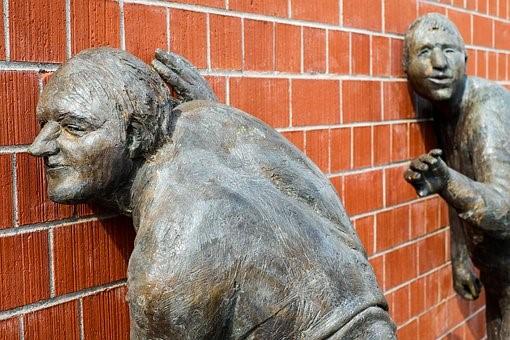 "Excuse me, but I couldn't help overhearing what you just said," she stated, earnestly.
"Oh here we go," I muttered.
"Excuse me," she persisted. "EXCUSE ME!"
"Listen, Sky or Goop or whatever your name is, can I just say that the cookie aisle is our safe space so we'd like you to respect boundaries," I lobbed one over the net.
"Until I decide to give you rights, you have none," I was duly informed, "and I don't much appreciate what you said about people with autism," she turned to Laverne. "It's a very serious disease, sometimes fatal. I know because my friend has it."
"Let's try this again," Laverne began. "First of all, it isn't a disease, it's a neurological disorder although even that's disputed. Secondly, it's none of your business what we talk about."
"Well you made it my business when your words committed an act of violence against my friend," her voice was quickly rising.
"Well, I don't believe that for one moment," Laverne replied, coolly.
"I've taken courses in it so I think I know what I'm talking about more than you do."
"No, you misunderstand me," Laverne stated calmly. "What I meant was I don't believe you have any friends."
Laverne put her hand behind her back and counted down with her fingers: 3…2…1…
"Could somebody please call the manager? There's a hate crime here!" the woman began yelling. "Security! Somebody help me! Help!"
"Clean up in Aisle Ten!" I joined in. "Guts being spilled everywhere!"
"So you're what a feminist looks like," Laverne sized her up, as members of staff started arriving on the scene. "I feel so over-dressed but who was it again who said You can never have too many accessories."
"Coco Chanel?" I wondered.
"Hitler, when he introduced the Box Clutch Field Phone for the gal on the go."
After staff anxiously listened to both parties' version of events, the young woman was asked to leave the store.
"She also came within 2m of me," she complained. "That's attempted murder!"
"You're clutching at straws with that one," Laverne warned her. "Now why don't you go find a police car to urinate on because you don't want to see Mommy angry."
"No, you knew more than anybody what you were doing because you're a nurse!" she pointed at her. "They let her jump the queue outside because she's a nurse! Call the police! She's a killer nurse!"
That's when we started laughing.
"Don't touch me or I'll sue! I've streaming this! And I expect a taxi home!" she continued her rant all the way to the exit.
"From obnoxious busybody to demented hysteric in less than 30 seconds," Laverne stopped laughing. "Makes you wonder what else is out there."
"Can you imagine ten thousand of her?"
"Gives the rest of us a bad name, that's the problem," she was now watching her remonstrate with shoppers in the queue like a street corner evangelist.
"Laverne, ten o'clock. Here comes Round Two," I gave a heads-up.
Making his way towards us was a tall, young man kitted out in black leather boots, matching leather trousers, a Black Sabbath World Tour t-shirt and a full-length, black leather coat.
"Good God, we're in the Matrix!" Laverne whispered, as he made a beeline straight for her. "If he's packing heat I want you to take him out."
"Hold on, Cagney, I thought you'd brought your gun," I glanced across at her.
"I think you dropped this," the man now stood before her, holding out a ten pound note.
We both smelled a set-up.
"I don't think so," she replied.
"It was before, over by the cereal when you were talking about how much money they'd have to pay you to be in a porno."
"And that's what you think it would take? TEN POUNDS?" she disarmed him in an instant.
Completely taken aback by the accusation, he struggled to find words.
"N-n-no," he stammered. "You dropped this. It's yours. I just picked it up."
"Son, I'm joking," Laverne smiled. "I'm joking. Thank you for your honesty. I didn't know what to expect when you first walked up. I'm afraid I don't meet many gentlemen these days."
"That's the porn industry for you," I shrugged. "Hi, Johnny Salami."
"Hi," he shifted, nervously.
"That was so nice of you to return the money but I want you keep it. After what we've just witnessed you've more than earned it," Laverne insisted. "Please allow your good deed to be rewarded by another."
"Um…" he was still struggling. "I don't know what's going on."
"I'll tell you what," she was ready to deal, "you tell me what you think I should be paid to appear in a porno and if I like what I hear you can keep the tenner."
"Would you be playing a nurse?"
"Whoa!" I hollered. "How long have you been following us?"
"That girl was pretty loud," he gestured to the lunatic staging a one-woman protest in the car park.
"Laverne!" she extended her hand but then withdrew it just as quickly. "Sorry… I keep forgetting about that 2m rule."
"Dale," he extended his hand. "You really had me going there."
"Dale?" I checked I'd heard correctly. "Dale? You walk around dressed like that and you're called Dale?"
"Afraid so," he shrugged.
For the next few minutes the three of us chatted and snacked on Oreos in the cookie aisle. Dale was polite and well spoken, a local lad who still lived at home but hoped to buy his own place soon. The more we got to know him, the more uneasy I felt about prejudging him.
"He's quite good looking," Laverne admitted. "Lovely blue eyes and that thick, black hair. Kind of Irishy. Plus, I like 'em tall."
"I read him completely wrong," I reflected. "I know it was in the heat of battle but still, I should have known better."
"Hey, you read her right which was more important so cut yourself some slack. That's a survival skill we're needing more and more these days."
After making our purchases the three of us said our goodbyes in the car park.
"Dale, it was nice meeting you. All the best, buddy," I gave him a thumbs-up.
"You too, Mr Salami," he delivered with a straight face.
"Dale, I'm sure we'll meet again," Laverne told him. "Don't know where, don't know when but this is a small town. You run into people eventually."
"Yeah but in your case it's usually because of your driving," I reminded her. "She has her own cubicle in A&E."
"We'll definitely be seeing each other then," Dale brightened, pulling out his wallet.
"Why? You're not a personal injury lawyer, are you?" Laverne asked.
"Not exactly," Dale pulled out his work I.D. "I'm a nurse."